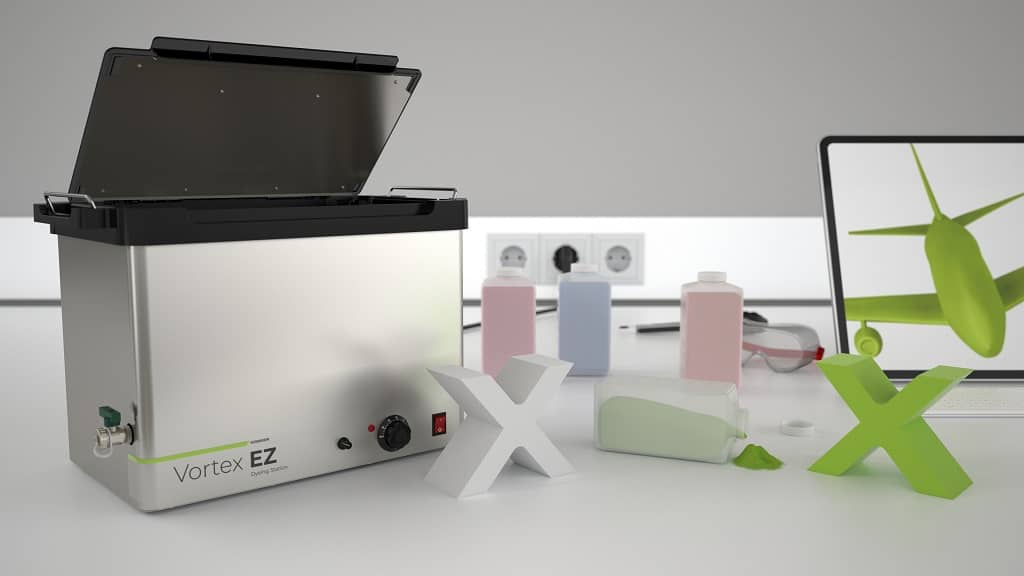 Vortex EZ Dyeing Station for SLS, SLA, FDM, MJF and SAF
Affordable Device
to Dye Your 3D Prints
---
Vortex EZ is our easy-to-use affordable desktop
dyeing station. It will easily fit in your office,
workshop, lab, school, and production floor.
How does it work?
Easy to Use,
Powerful in Action
Large 450 x 260 x 205 mm basket and a powerful heater for large 3D printed parts and safe,
plug-and-play operation
Dye Your 3D Prints
in 5 Simple Steps
---

Add Water and Dye
Add tap water and a few spoons of the safe and non toxic dye.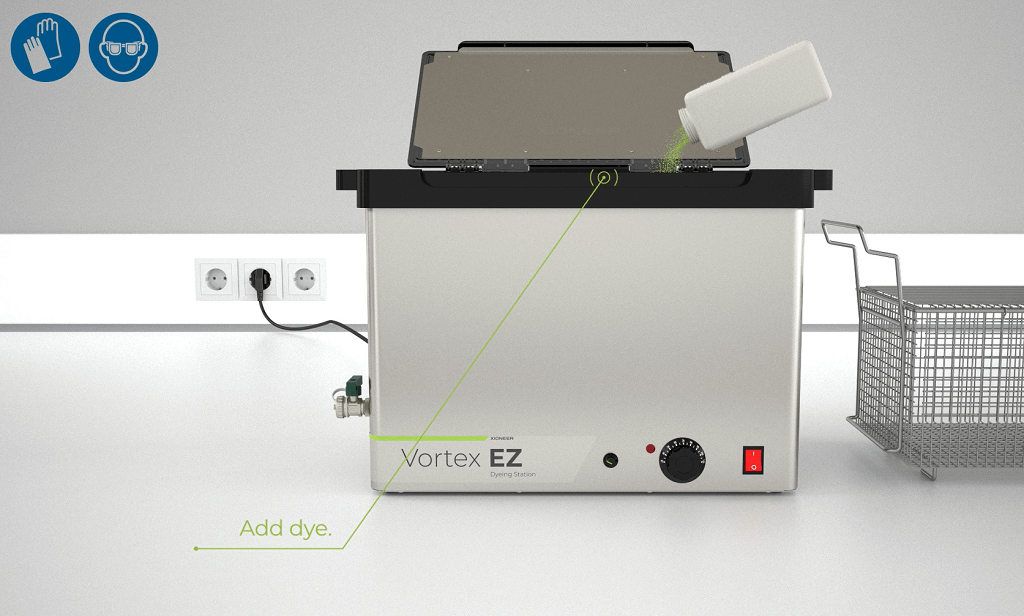 Place Your Part
Place your 3D printed part inside the basket. Check Tech Specs for Part Sizes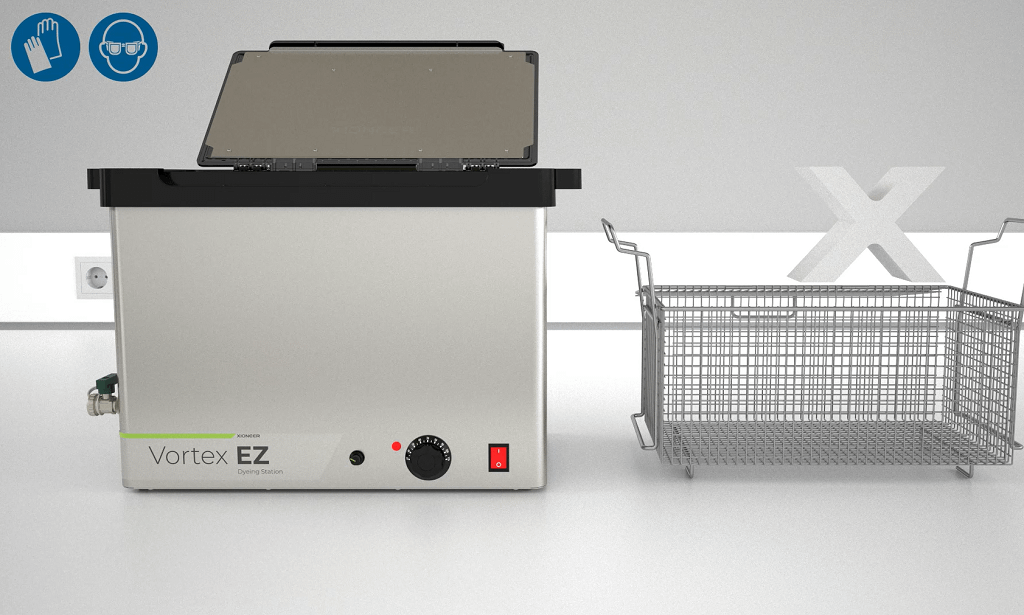 Set Temperature
Set dyeing temperature up to 85 °C depending
on the model material you use.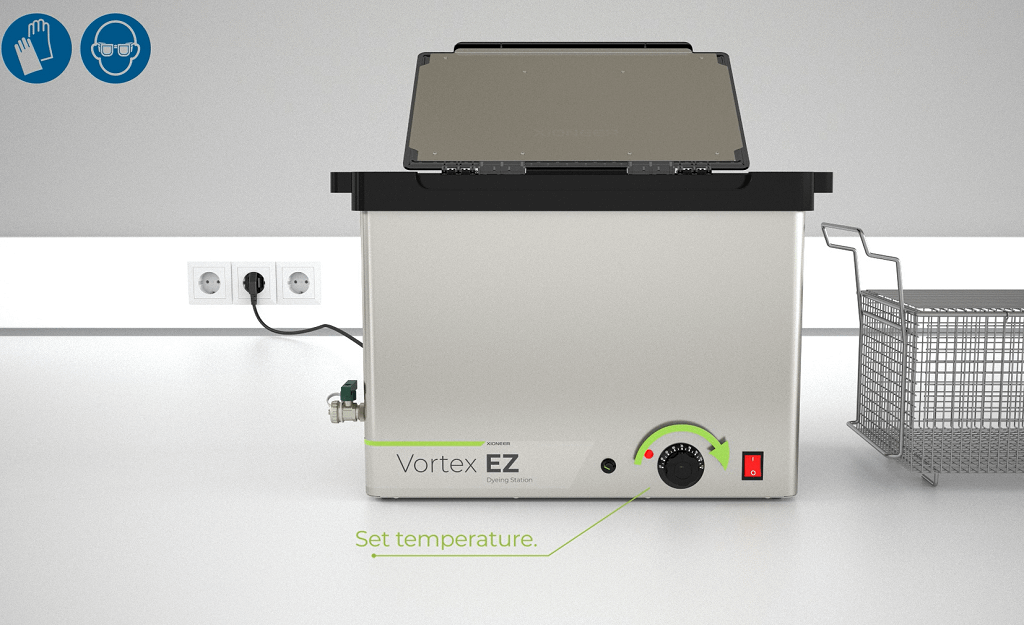 The Part
Soaks Up The Color
It will take from a few minutes to a few hours to dye your part – depending on the desired color intensity.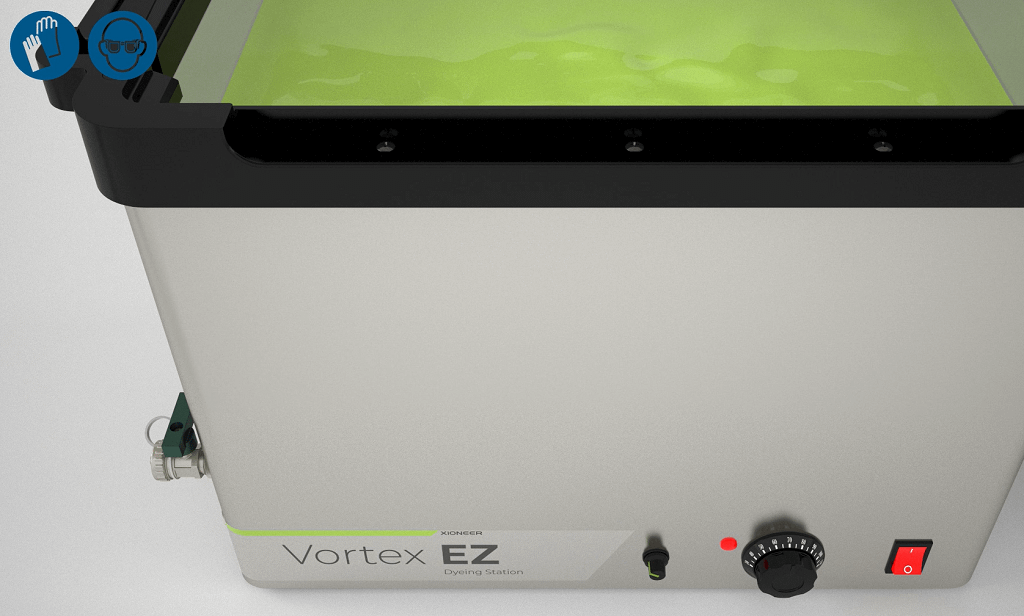 Rinse Your Part
Remove your part and rinse any remains of the dyeing solution with tap water. Congratulations, your part is ready!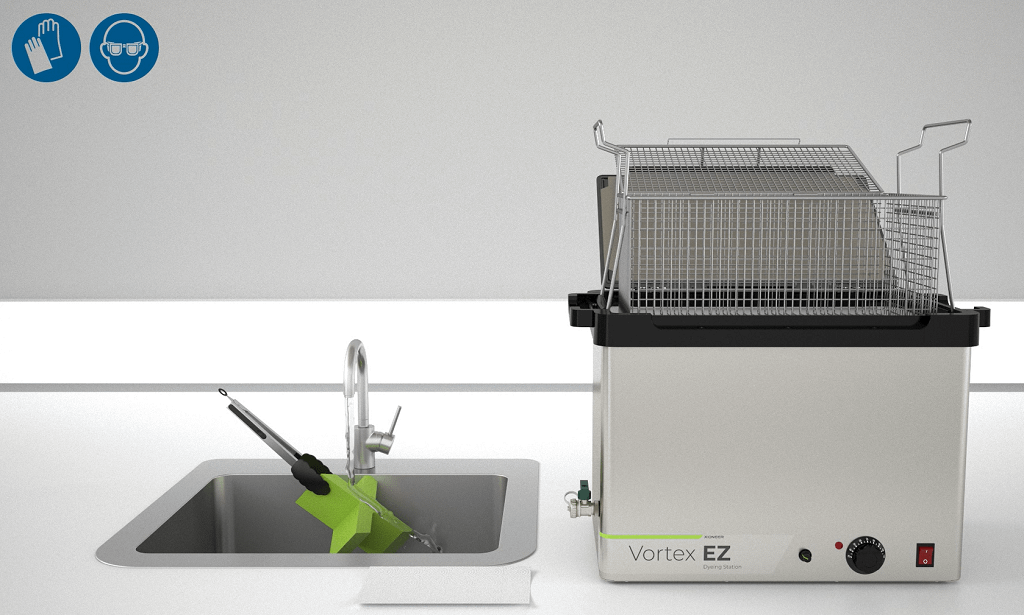 Order now!
Technical Specifications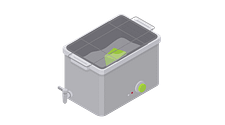 Outside Dimensions (LxWxH)
640 x 370 x 450 mm
Basket Dimension / Maximum Part Size (LxWxH)
450 x 260 x 205 mm
Tank Solvent Capacity
11 – 38 Liter
Net Weight Without Solvent
22 kg
Adjustable Temperature Range
30 °C – 85 °C
Heat-up Time (38L, 20°C – 70 °C)
Approx. 1 hour
Recommended Model Materials

Verify temperature settings with a temperature resistance of your model material

PA, PU, TPE, Acrylic, Polyester, ABS, PEEK, PEI, PP, PC, …
Recommended Dyes
TCN GTC universal liquid dye, Nakoma Products Rit ProLine
Peak Power Consumption

The peak power consumption of the Vortex EZ during heating up.

1220 W (110V/60Hz)
1360 W (230V/50Hz)
Average Power Consumption at 85 °C

Average power consumption with a full tank to maintain the set temperature once heated up.



Approx. 250 W
Power Supply
AC 230V/50Hz EU Version, AC 110V/60Hz US Version
Dyeing Technique
Continuous fluid agitation and heat
| | |
| --- | --- |
| Maintenance Interval | On demand |
| CE – Conformity | EU |
| | |
| --- | --- |
| Warranty | 12 months excluding accessories and consumables |
Any Questions? Try our Help Center!
Vortex EZ
Dyeing Station
---