Xioneer News
Learn about our upcoming events and trade-shows, past events, and press releases.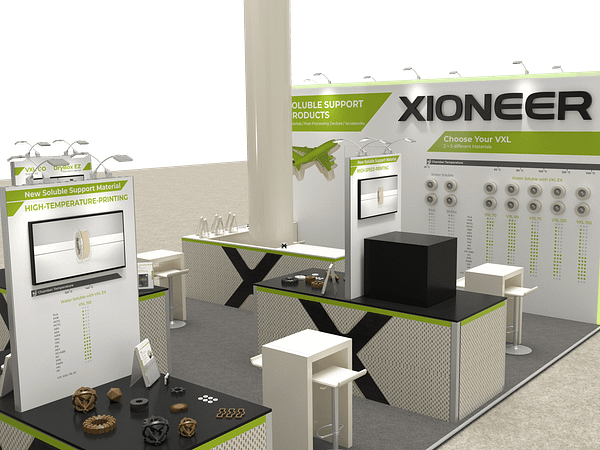 Join us at Formnext 2023 – Hall 12.1 | Booth E121
---
Xioneer to showcase three new products for FFF 3D printing at formnext 2023
Xioneer launches soluble support filaments for high-speed printing, a new high-temperature soluble support filament VXL 150 and a large modular support removal, cleaning and drying station for FFF 3D printer market. Xioneer is developer, manufacturer and a leading OEM supplier of soluble support products consisting of materials, post-processing devices and accessories. At Formnext, they will have several new products to demonstrate.
NEW:     Soluble Support Material Xioneer VXL 150 for High-Temperature-3D-Printing
For example, Xioneer is launching its new soluble support material VXL 150, which is optimized for printing with high temperature model materials, e.g. with PEKK, PEEK, PC, Ultem. VXL 150 expands the soluble support materials portfolio of Xioneer, consisting of VXL 70, VXL 90, VXL 111, VXL 130. The materials portfolio enables complex prints with almost all model materials on all FFF printers.
NEW:     Xioneer XVL Soluble Support Material Product Family Designed for High-Speed-3D-Printing
For those who focus on highspeed printing are facing the challenge that complex geometries and the size of the parts, as well as the different rheological properties of model materials and soluble support materials, have been the limiting factors for high 3D printing speeds. In particular, current soluble support materials consisting of mixtures with polyvinyl alcohol are unsuitable for printing with high-speed printing filaments. But Xioneer is rolling out its soluble support materials for high-speed printing that overcomes the previous limitations. Depending on the material combination and printer settings, the interface can be printed at speeds over 300mm/s, which is particularly crucial for the growing demand for additive series production of final components to significantly reduce production times.
NEW:      Xioneer Vortex XP Modular and Scalable Support Removal System 
Meanwhile, the Vortex XP system is aimed at a cost-effective post-processing that, due to the modularity of the system, the tank volumes are scalable for users of FFF-3D desktop printer up to FFF-3D industrial printers with large chamber volumes. The Vortex RCD is a fully automatic system, consisting heatable, modularly combined immersion baths with agitator for aqueous or alkaline solutions for the support removal with subsequent cleaning and drying of 3D printed parts. The immersion baths are offered between 30 liters and 190 liters and can be combined in the system with each other.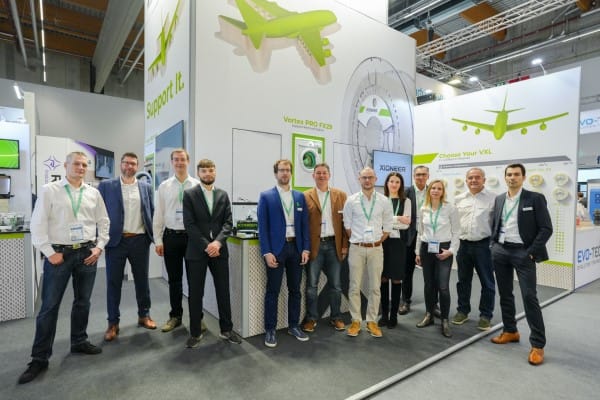 Xioneer Demonstrates 4 New Innovations On the Formnext 2022
---
The formnext in Frankfurt is a must-see highlight for every 3D printing professional. Every year, exhibitors from all over the world embark on a journey to Frankfurt to display their achievements on their gleaming booths.
From 15.11 to 18.11.2022, Xioneer demonstrated its four innovations.
With a growing demand for soluble support materials, Xioneer introduced two new materials to its family of filaments: PVA and BVOH. These polymer products represent a perfect entry into the world of soluble supports – available in our store.
As you passed our booth, you couldn't help but notice our automated support-removal station, Vortex PRO. What at first looks like a household washing machine is, in fact, a fully automated device to remove soluble supports from your FFF parts. This year, we showed the Vortex PRO FX65: an industrial-grade machine that can handle larger throughputs and models.
A noticeable highlight of the formnext 2022 was our Vortex EZ Dyeing Station. Its 38 Liters tank will infuse color into your SLS, SLA, FDM, MJF and SAF 3D printed parts. With its low price point, Vortex EZ is probably the most affordable professional dyeing station today – now in stock in our online store.
We also announced our cooperation with the materials manufacturer Victrex® and a software innovator Hexagon®. In an exciting joint project, "First-Time-Right 3D Printing of AM200® (PAEK)", we demonstrated an innovative approach to use VXL soluble supports with Digimat-AM® simulation software. It's a revolutionary way to 3D print PAEK using amorphous 3D printing and annealing.
But what a formnext be without its booth parties? So this year, Xioneer was humbled to host several booth events serving hot pretzels from a local bakery with a refreshing Franconian beer.
The formnext 2022 was a fantastic event, and we are grateful to all customers, partners, and friends who made it such as success!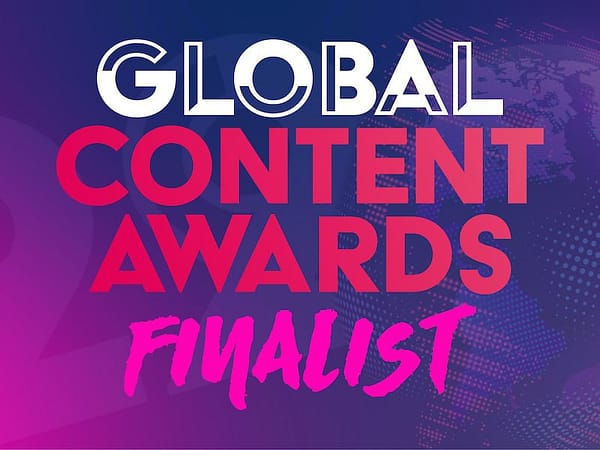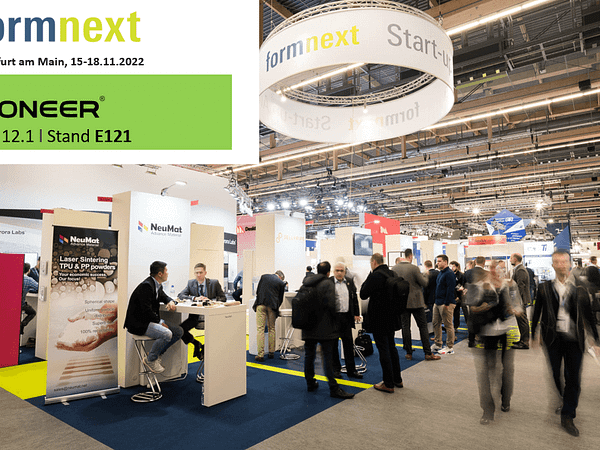 Let´s meet in November – at the FormNext 2022
---
We look forward to welcoming you in Frankfurt at the FormNext 2022
– the largest international exhibition and conference on the next generation of manufacturing technologies, which takes place from 15 to 18 November 2022.
You will find us in Hall 12.1 on Booth E121. Search for the tall green stand will a large "Xioneer" logo on it.
Our team has been working hard to create new technologies – and we hope to inspire you with our new 3D printing products.
Don't miss the chance to meet in person and have a shot (or two) of our energizing Viennese espresso.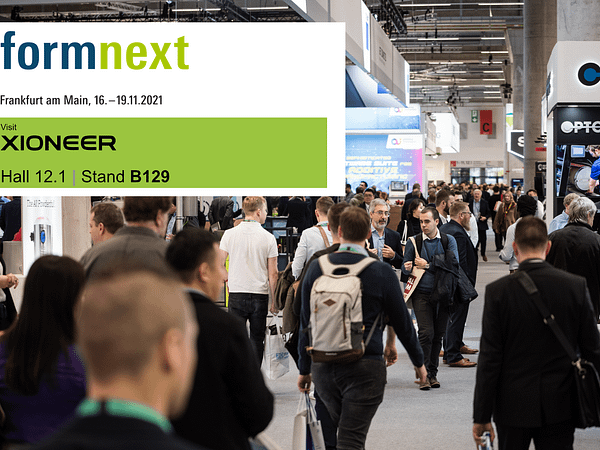 Let's meet in November – at the FormNext 2021
---
The doors of one of the largest AM tradeshow are opening again - and we'll be there!
The last two years have been tough on the exhibition industry. Exhibitors switched to virtual trade shows. But a virtual trade show will never replace the depth and quality of in-person human interaction and the feeling of standing next to a real product.
This November, one of the world's largest trade shows for additive manufacturing is opening its doors again.
So don't miss the chance to drop by our stand to grab a freshly brewed espresso ☕, meet us in person 😀, and check our new products 🎁.
Visit us at the upcoming FormNext in Frankfurt from 16. to 19. November 2021 🌍.
You will find us in Hall 12.1 on Booth B129 (Search for the tall green stand will a large "Xioneer" Logo).
If you need a free ticket 🎟 – just drop us an email.
Image Credits: Mesago Messe Frankfurt GmbH / Mathias Kutt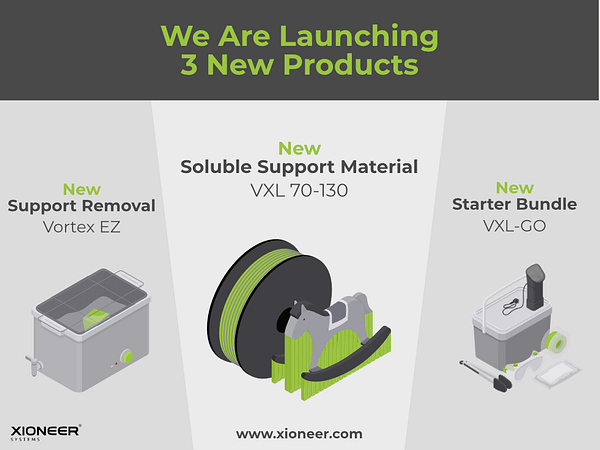 Xioneer Launches Its New Website and 3 New Products for 3D Printing
---
Today we are making an important step towards our vision of combined materials and hardware in 3D printing
In 2019, the German specialty chemical producer BellandTechnology AG acquired Xioneer Systems. This historic moment marked the beginning of a grand vision: bring 3D printing materials and hardware together.
Today we are making an important step towards this vision by launching our new website and introducing three new products!
1. VXL Soluble Support Materials
Our FFF support filaments work even with the most challenging model materials like PC and PEEK.
2. VXL-GO Starter Bundle
This set has everything you need to start using VXL support materials (and more).
3. Vortex EZ Support Removal Station
Remove your FFF supports quickly with this comfortable, affordable, and easy-to-use device.
Explore our Help Center or Xioneer Magazine to get valuable insights not only into our products but into 3D printing in general.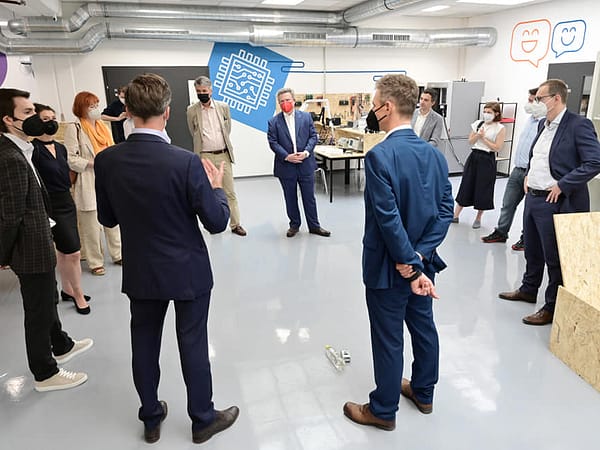 Mayors of 3 European Cities Listen to the Story of Xioneer
---
Mayors of Vienna, Berlin, and Bern Visit Vienna's Happylab on 09. July 2021
As the director of Xioneer Systems GmbH, I had the honor to tell the story of Xioneer to the delegation of VIPs, which included Dr. Michael Ludwig (mayor of Vienna), Michael Müller (mayor of Berlin), and Alec von Graffenried (the city president of Bern).
The truth is: Like a few other startups, Xioneer also has its roots in Happylab too. The Vienna fab lab helped us get off the ground as a hardware startup back in 2016.
In 2006, Happylab started out as a local fab lab for makers and enthusiasts who wanted to make prototypes. You could find there a variety of machines, tools, and devices that help you cut, mill, and solder parts. Basically, Happylab was a workshop that let you turn your ideas into real things.  Over time, more people joined and the community grew to over 2000 members. In 2014, Happylab opened its second location in Salzburg, and just two years later, in 2016, Happylab opens its doors in the capital of Germany.
Among other startups and makers, Xioneer Systems had its beginnings in Happylab too. We made the parts for our first prototypes – often in the late-night hours in the Happylab's workshop in the second Vienna district. By creating the parts ourselves we were able to iterate our designs quickly. If a part didn't fit or the design didn't work – we just made another part in an hour. Day-by-day, our prototype grew. The rest is history.
Thanks to Happylab for this opportunity to share our story.
Images: © Stadt Wien/PID, Fotograf Jobst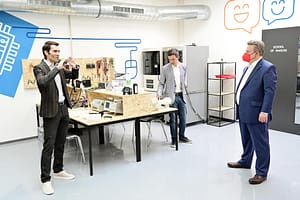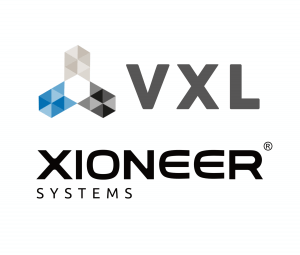 Xioneer Systems acquired by BellandTechnology (VXL)
---
The acquisition took place by means of a 100% share deal at the end of December.
BellandTechnology AG (Bayreuth / Germany), also known under the Brand VXL has acquired the industrial 3D printer manufacturer Xioneer Systems GmbH (Vienna / Austria). Together with Xioneer Systems, the consumables manufacturer, BellandTechnology is planning to expand its global presence on the markets for 3D printing and additive manufacturing. The acquisition took place by means of a 100% share deal at the end of December.
Founded in 2013, Xioneer Systems has developed, produced, and sold innovative FFF (Fused Filament Fabrication) 3D printers for professionals. After launching its automated Xioneer Desktop 3D printer, the company was distinguished by the 2016 FormNext Start-up Challenge Award for its pioneering innovations in 3D printing. In 2018, Xioneer Systems has entered the market for industrial applications by introducing its advanced 3D printer model Xioneer Industrial, allowing the company to serve customers in such fields as engineering, automotive, and aerospace (www.xioneer.com).
"By merging our companies, we combine the 3D printing know-how of Xioneer with the materials know-how of BellandTechnology. And this places us in a unique competitive position: a position to tackle 3D printing challenges in a new way, to deliver new solutions. All that with one goal in mind: to promote the FFF technology in both the consumer and the industrial additive manufacturing markets. To achieve this, we decided to focus on the entire FFF industry and change our product course accordingly. Therefore, we will expand our service portfolio and we plan to offer innovative add-on systems, components, and accessories for any FFF 3D printer on the market." explains Dr. Andrei Neboian, founder and CEO of Xioneer.
BellandTechnology AG is a speciality chemicals company which develops, manufactures, and markets high-performance thermoplastics. Polymers manufactured by BellandTechnology hold a unique feature: they have a controlled solubility in water or aqueous alkali solutions. This feature became crucial for new and innovative production processes in many industries such as medical engineering, electronic industry, and mechanical engineering. So, a variety of products are produced from these polymers including solids, adhesives, foams, films, fibers, and semi-finished products. Materials by BellandTechnology have also found their way into 3D printing.
In 3D printing, BellandTechnology is the world's leading manufacturer of thermoplastic soluble support materials. These materials are used to print complex geometries and intricate parts on FFF 3D printers. Compared to other soluble support materials on the market, materials by BellandTechnology have much higher thermal stability. This quality makes their polymers an excellent choice for any FFF 3d printer.
BellandTechnology serves its customers both as an OEM supplier and as a private or white label manufacturer. The company has established itself under the brand VXL (www.vxlglobal.com).
Thomas Demmer, the CEO of BellandTechnology AG, commented on his acquisition of Xioneer: "We are excited about the future with Xioneer on board. In the coming years, we will serve the FFF 3D printer market with software solutions, hardware components, and innovative concepts for 3D printing consumables – all perfectly matched together. These products will be cost-efficient, professional, and user-friendly. As a 3D printing materials company, we are open to working with all 3D printer manufacturers. And we believe that this openness, together with the willingness to deliver great products to manufacturers and end-users, will help us push the FFF market forward."
Xioneer Systems and BellandTechnology – Together on the FormNext 2019
---
Two companies exhibit together on this year's FormNext in Frankfurt
The year 2019 comes to an end on an exciting note.
For this year's FormNext in Frankfurt, we have teamed up with the specialty materials manufacturer BellandTechnology AG – and combined our booths to a single exhibition stand.
Xioneer Systems GmbH showed its 3D printers – including its new Xioneer Industrial HT. Our new printer model supports high-temperature materials, including PEEK thanks to its increased build-chamber temperature of up to 85 degrees C.
BellandTechnology AG demonstrated its state-of-the-art soluble support material VXL. The supports made from VXL looked like the best from what we experienced so far: temperature stable, moisture resistant, and they adhere to almost any model material.
Xioneer provided freshly brewed Viennese espresso, while BellandTechnology made sure we can answer any question related to 3D printing material chemistry. It seems that both of our teams can work really well together. Who knows where this can lead to…